(my hair after using jojoba and castor oil)
click to enlarge
My favorite oils at the moment are castor oil and jojoba oil. My hair thrives off these oils, and when used in combination with my leave in conditioner. I've experimented with several oils such as sweet almond, grape seed, coconut, extra virgin olive and many others. They're all great oils and provide different benefits for your hair, skin, and body. Natural hair thrives off moisture and with use of essential oils, moisture is locked in.
True Story: I have fond memories of castor oil as a child. I remember every year before winter having to take what seemed like a cupful(teaspoon)by mouth chased with orange juice. It tasted horrible! *castor oil was given to children in the winter to cleanse the system and reduce sickness. I remembered how thick it was going down my throat. You had better not thrown it up, because that meant another spoonful. I used to think how could any parent do this to their child? I promised myself, I'd never give my kids castor oil.
Jojoba Oil Benefits
Jojoba Oil
moisturizes the scalp - when massaged directly into the scalp
non-greasy, colorless, odorless - absorbs easily
antibacterial - can be used in treating cuts, scraps, sores and bruises
Click here for more information on benefits of using Jojoba oil.
Castor Oil Benefits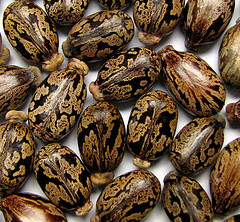 Castor oil is derived from the Castor bean
great for moisturizing the hair - a little goes a long was as castor oil is very thick

can be added to your favorite conditioner for deep conditioning treatments

acne treatment (Interesting, I may explore this and get back to you all on my results)
Click here for more information about Castor oil and its many benefits.