Jennifer Hudson has transformed her body right in front of our eyes. She's gone from wearing a size 16 to a size 4, and according to European standards, she was considered obese, but to me she was just a beautiful plus sized woman. She has stood firm saying, "She has never had a problem with her looks or her body". After having her son, David Otunga Jr., she wanted to start focusing on positive aspects of living life at a healthy weight and being a positive example for her son.
Jennifer became the spokesperson for Weight Watchers back in 2010 and hasn't looked back since. As African American women, we often feel if we're plus sized we shouldn't have to lose weight; however, it's not about being happy or unhappy with your weight, but leading a healthier lifestyle. This was one of the reasons I decided to take control of my health by joining Weight Watchers back in 2007. I am very happy Jennifer has decided to be not only a role model for her son, but for African American women as well as women in general.
Critics continue to discredit her transformation accusing her of losing the weight through a surgical procedure. I understand why skeptics make such accusations, when it comes to a celebrity. Many celebrities in the past have taken surgical measures to produce weight lose; but honestly, if you put in the work you can lose weight without a chef, personal trainer, or special pills. I'm living proof that exercising and healthy dieting works!
Weight Watchers has products they sell; however, you don't have to eat them in order to lose weight. I know for me I had an occasional smart one frozen entree, but I typically stayed true to my normal dieting regiment. If you have been considering an extreme diet and/or surgery please consult with your doctor before proceeding, because those two methods can be costly and risky to your health. Trust me; weight loss can be achieved through a healthy diet and exercise.
Jennifer Hudson is featured in the new issue of Self magazine, click
here
for more details.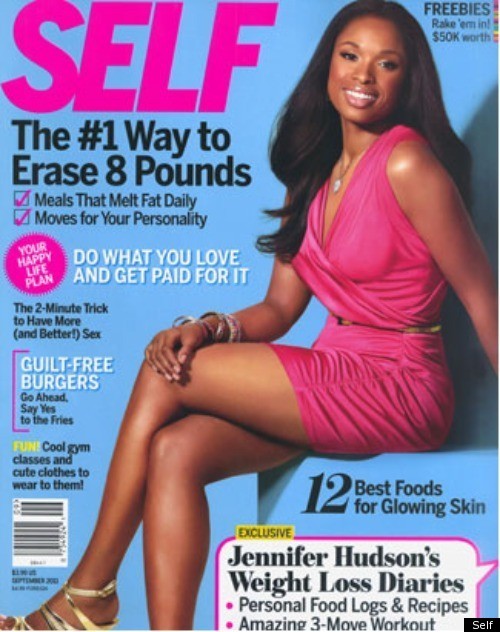 Self Magazine